Willkommen! Welcome to Castroville - On Line! Castroville is a historic little town nestled in the Medina River Valley 15 miles west of San Antonio. Rich in history, the town was founded in 1844 by Henri Castro and a small group of colonists mostly from Alsace, France.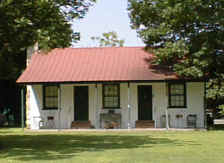 The "Little Alsace of Texas" has much to offer including mouth-watering dining, shopping, antique stores and cozy accommodations. Check the calendar for upcoming events you don't want to miss such as Antique Shows, Fine Art Shows, Festivals and Market Trail Days! For some exercise, put on your walking shoes, follow the signs, and take a walking tour to view the historical sites throughout town.
On-line you can learn about Castroville's rich heritage and history and visit with pictures and descriptions of the many historical buildings, places of interest in and around Castroville, and sites on "big" Alsace, France. Visit the businesses and, when in town, please patronize our businesses.
Whether you are visiting on-line or in person, enjoy your visit and tell your friends about Castroville - The Little Alsace of Texas.